Thanks Gail and Karl for a most wonderful evening! Please know you are most welcome on OUR stage anytime!
Lynda M. Norman, Executive Director,
ACA -
Artists for Creative Alliance
Three Chord Special performing a few of their songs at home
Live performance videos, shot at home.
Hear more Gail and Karl songs
Head on over to SoundCloud to give us a listen...
With The Malarkeys, we released an album of original songs in 2010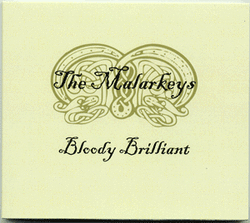 "The album "Bloody Brilliant" is just that. Clever, unique and a great addition to RadioCelt",
Pat Fitzell, Station Programmer, RadioCelt (Accuradio)

"The CD is awesome"... Highlander Radio

"...this one goes into my permanent collection"... Johnny Canuck, CanadianMusicians.com

"The CD would make a great addition to any Celtic music lover's collection. I'm happy to add it to mine."
Catherine Tully, Celticmp3s.com

---